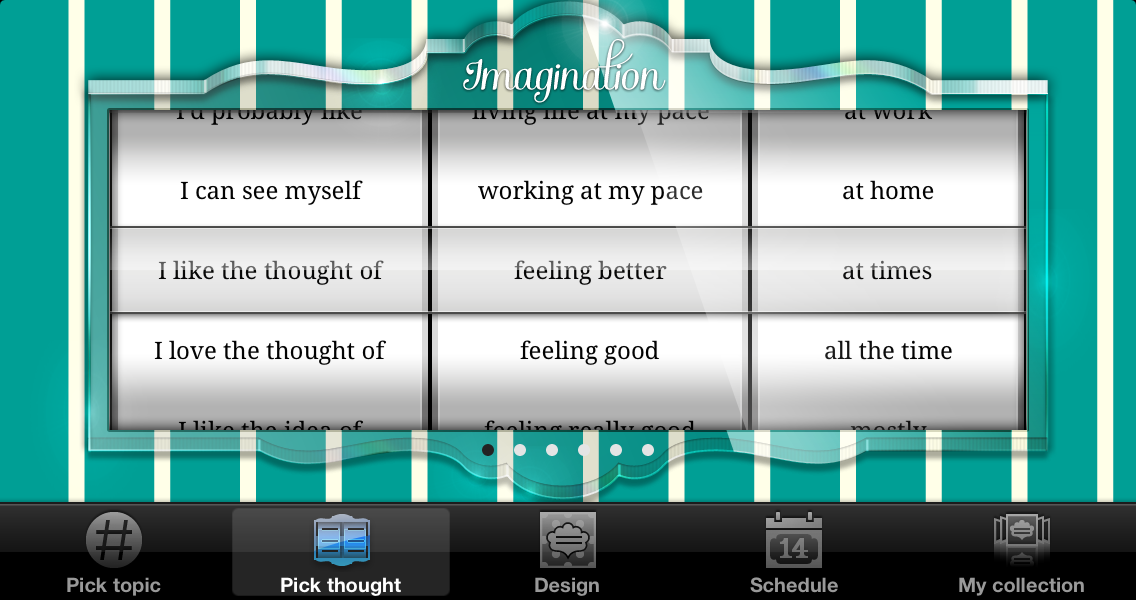 CHOOSE TOPIC & THOUGHTS
Each topic has six selection boxes/pickers filled with fragments of thoughts that you can mix and match into complete thoughts. You'll find thought fragments relating to imagination, allowing, desire, expectation, capability, and appreciation within each topic. If the thought you've created doesn't resonate perfectly with you, use the Text Edit button in Design mode to fine-tune it.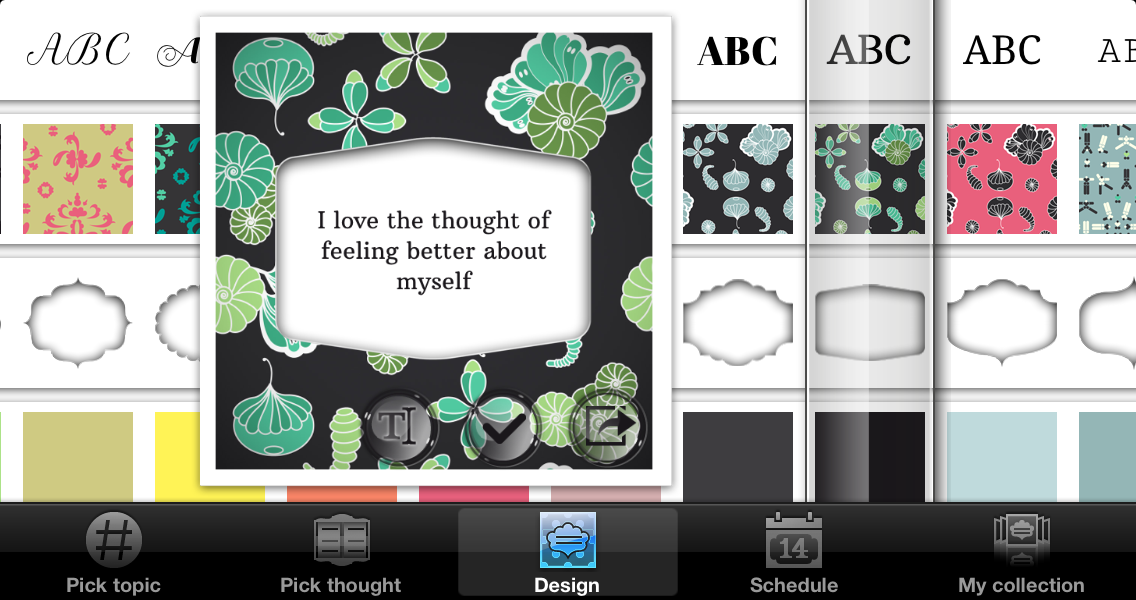 DESIGN YOUR THOUGHT CARD
In Design mode, you can choose between different background patterns, shapes, fonts and font colors to create your own unique thought card or powerful affirmation card.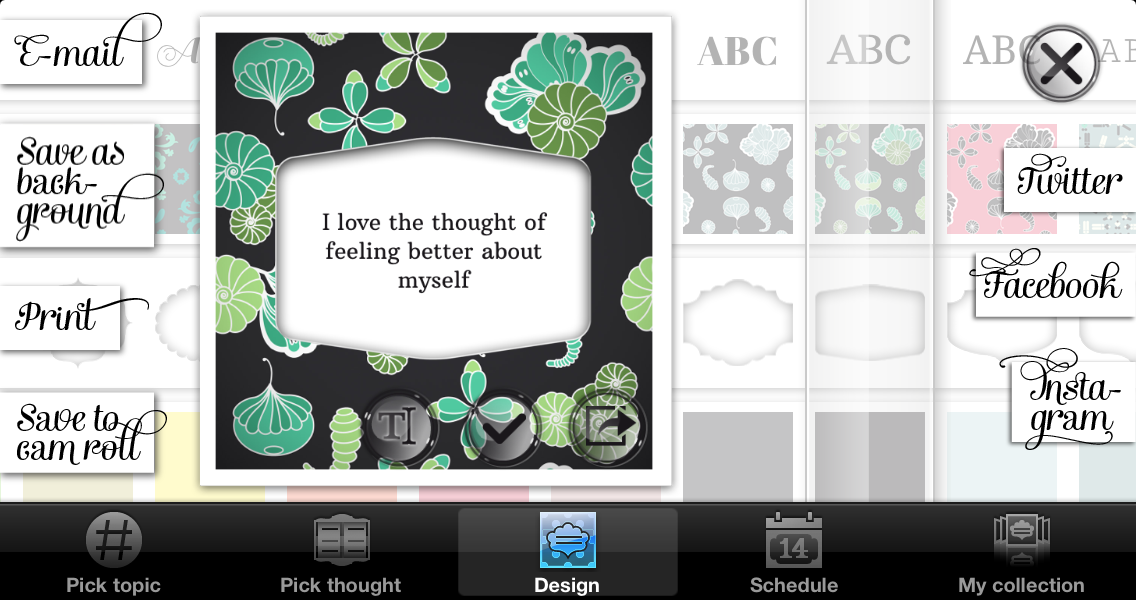 SHARE, SAVE OR PRINT YOUR THOUGHTCARD
Keep your thought to yourself… or share it in an email, or on Twitter, Facebook or Instagram. To use it in other applications, just save your thought to the camera roll.
You can also save your thought as a background image. This saves two images to your cam roll; one with the selected background image for your home screen, and a tailor-made thought designed for your lock screen. Using your thought as your lock screen is an easy way to rethink your positive thought many times throughout the day.
You can also print your thought and put it somewhere it will catch your attention, like next to your computer or on a mirror.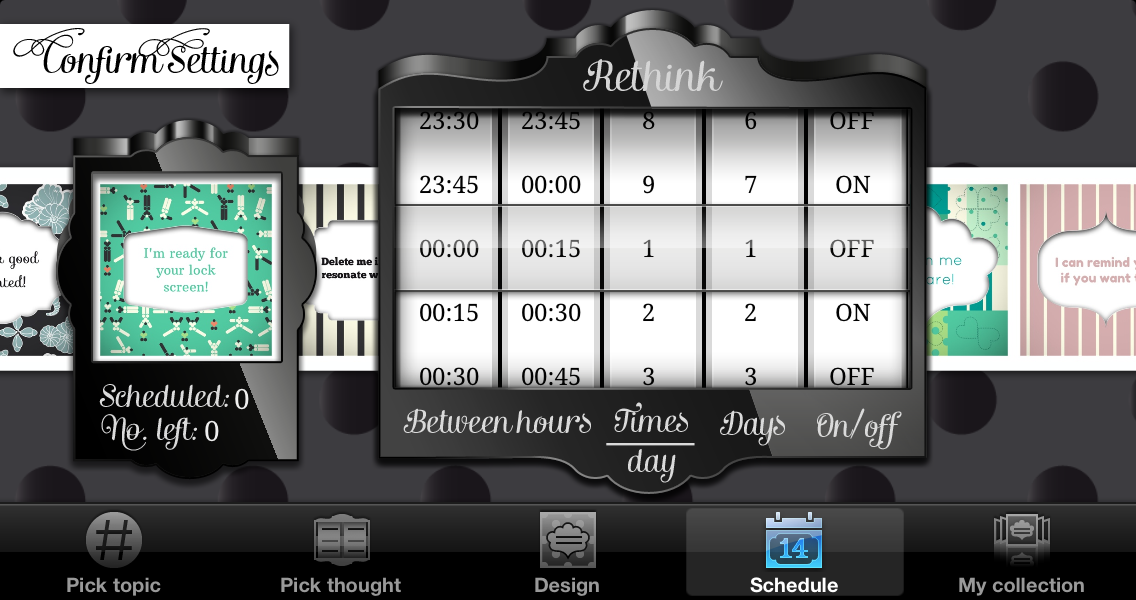 SCHEDULED REMINDERS
Another way to rethink your positive thought regularly is to schedule reminders that will be displayed on your home screen. In Schedule mode, you can set the number of times and days, as well as the times of day you want to be reminded.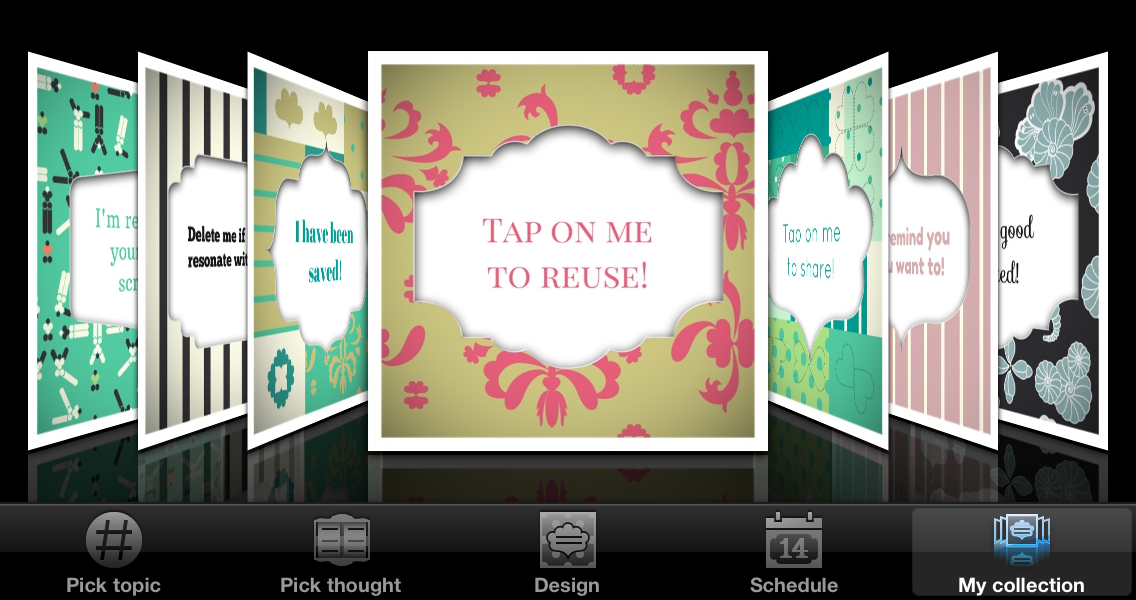 COLLECT YOUR THOUGHT CARDS
All of your designed thoughts are collected in My Collection mode, so you can easily reuse your thoughts as powerful affirmations to improve your life.
SHAKE FOR RANDOM INSPIRATION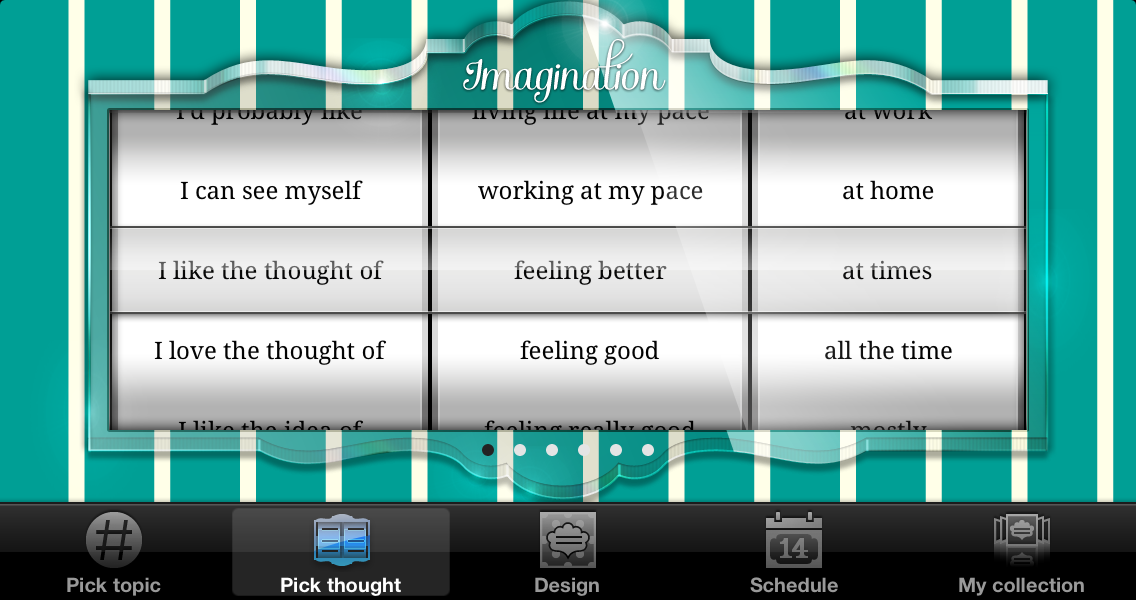 VÄLJ ÄMNE OCH TANKE
Varje ämne har sex sorteringslådor fyllda med ofullständiga tankar som du kan kombinera till egna, fullständiga tankar. I lådorna finns tankar om fantasi, värdighet, önskningar, förväntningar, förmågor och uppskattning relaterade till varje ämne. Om texten inte harmonierar använder du bara knappen "Edit Text" för att finjustera.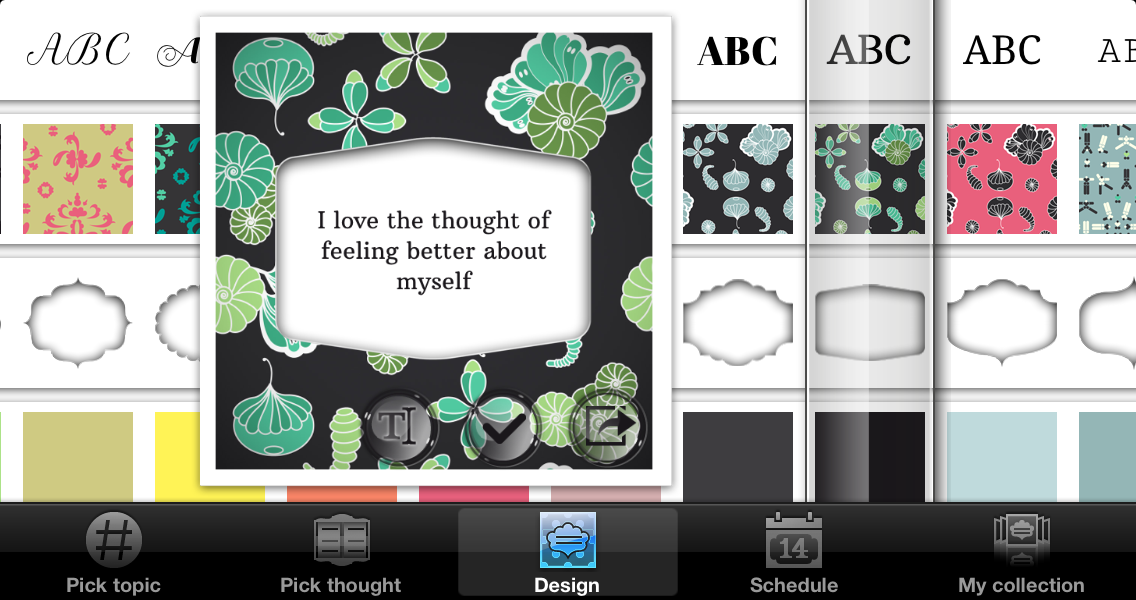 DESIGNA TANKEKORT/AFFIRMATION
I appens Design-läge kan du skapa ditt eget tanke- eller affirmationskort. Välj mellan olika bakgrundsmönster, former, teckensnitt och färger på teckensnitt.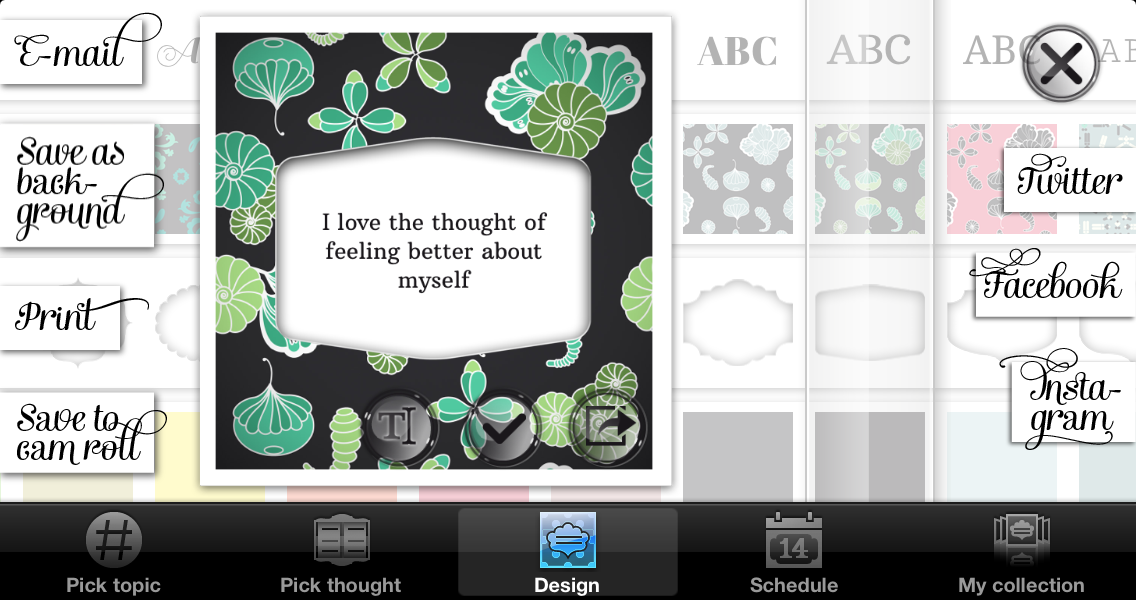 DELA, SPARA ELLLER SKRIV UT DITT TANKEKORT
Behåll tanken för dig själv – eller dela den i ett mejl, på Twitter, Facebook eller Instagram. Om du vill använda den i andra applikationer är det bara att spara ner tanken i telefonens kamerarulle.
Du kan också välja att spara ditt tankekort som en bakgrund. Då sparas två bilder ner i kamerarullen; en bild med det valda bakgrundsmönstret avsedd för din hemskärm och en bild med själva tankekortet för användning på låsskärmen. Att ha tanken som låsskärmsbild är ett enkelt sätt att upprepa tanken under dagen!
Du kan också skriva ut tanken och placera den någonstans där den fångar din uppmärksamhet – bredvid din dator eller kanske på badrumsspegeln…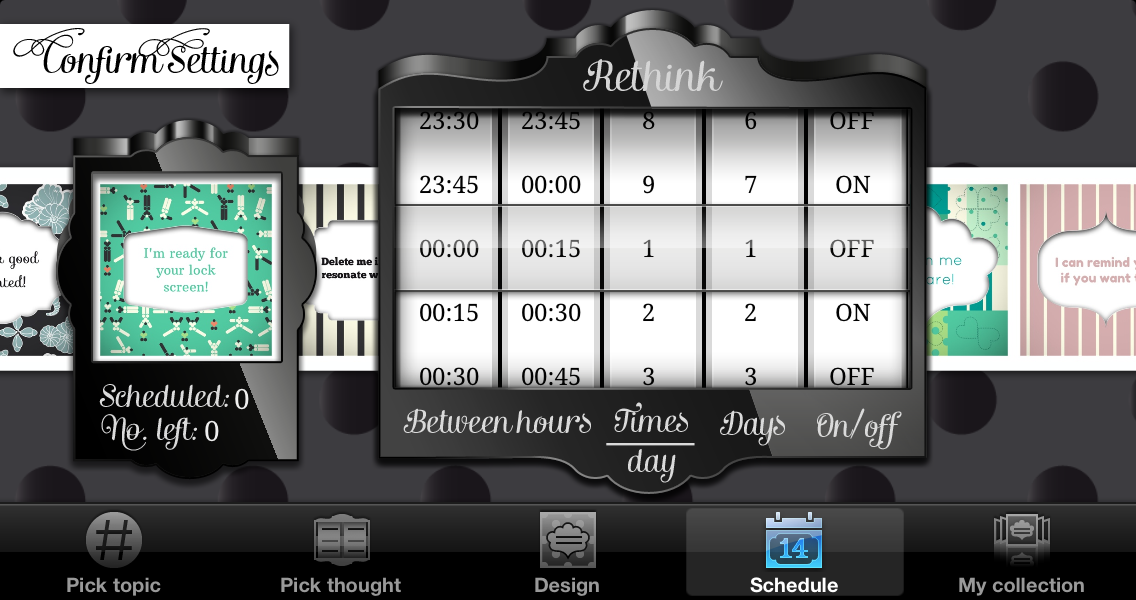 SCHEMALÄGG PÅMINNELSER
Ett annat sätt att tänka tanken oftare, är att schemalägga påminnelser som visas på din hemskärm. Använd "Schedule Mode" för att bestämma antalet gånger, dagar och vid vilka tider som du vill bli påmind.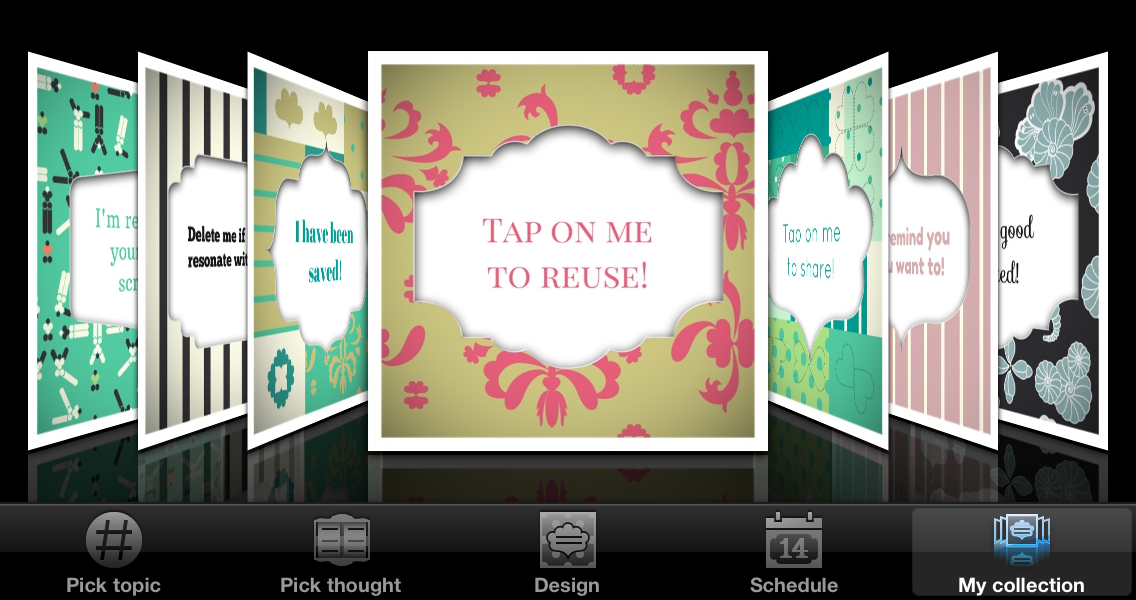 SAMLA DINA TANKEKORT
Alla tankar som du har designat samlas i "My Collection", så att du enkelt kan återanvända dina tankar.
SKAKA FÖR SLUMPMÄSSIG INSPIRATION
Funciones de la aplicación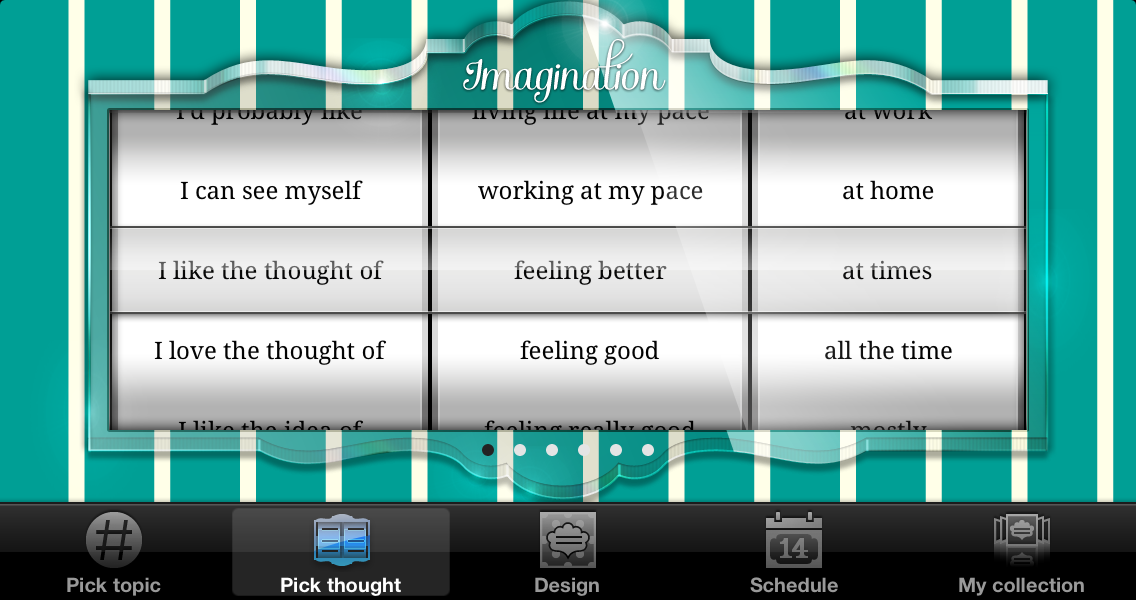 ELIGE EL TEMA Y LOS PENSAMIENTOS
En cada tema puedes seleccionar seis recuadros con fragmentos de pensamientos; mézclalos y combínalos para formar pensamientos completos. Verás que, en cada tema, hay fragmentos de pensamientos relacionados con la imaginación, el deseo, la esperanza, la gratitud, la capacidad y el acto de permitirse cosas. Si el pensamiento que has creado no te acaba de inspirar, usa el botón Editar texto del modo Diseño para terminar de pulirlo a tu gusto.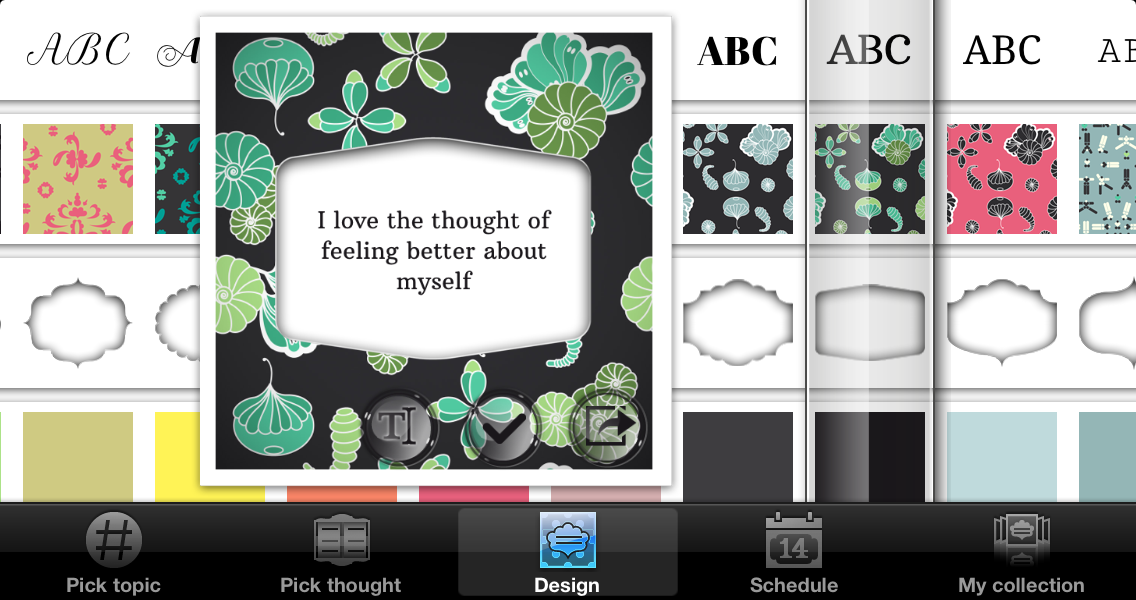 DISEÑA TU TARJETA DE PENSAMIENTOS
En el modo Diseño puedes elegir entre distintos modelos de fondos, siluetas, fuentes y colores de fuente para crear una tarjeta de pensamientos o tarjeta de afirmación totalmente única.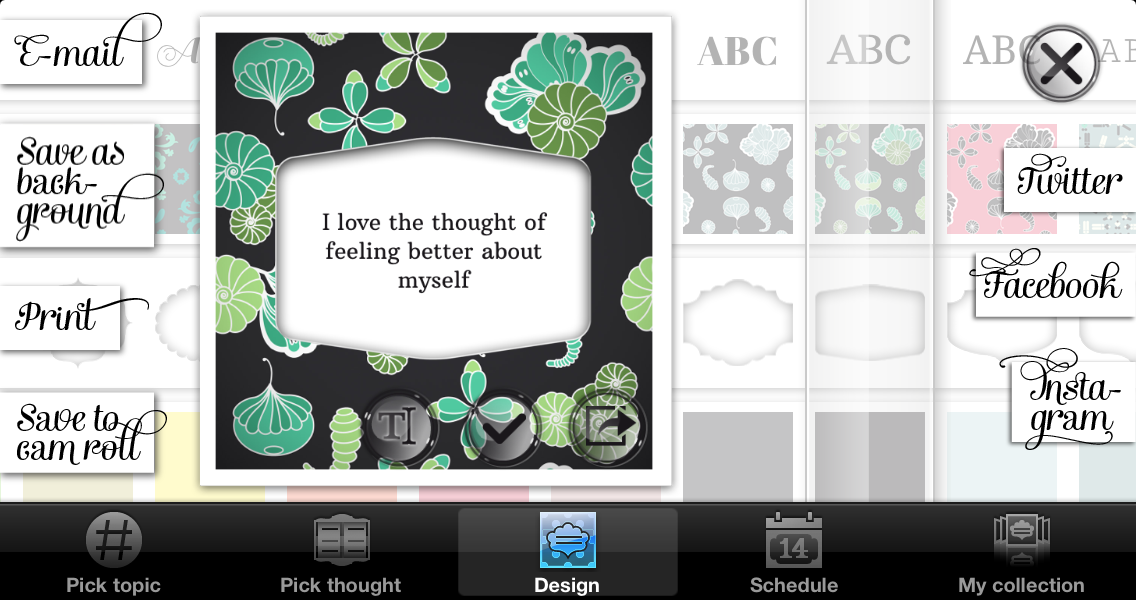 COMPARTE, GUARDA O IMPRIME TU TARJETA DE PENSAMIENTOS
Guárdate de contar lo que piensas… o compártelo por correo electrónico, en Twitter, Facebook o Instagram. Para utilizar tu pensamiento en otras aplicaciones, basta con que lo guardes en tus Imágenes.
También puedes guardar tu pensamiento como imagen de fondo. Para hacerlo, se guardarán dos copias en tus Imágenes: una con la imagen de fondo seleccionada para tu pantalla principal, y un pensamiento personalizado para tu pantalla de bloqueo. Utilizar tu pensamiento como pantalla de bloqueo es una forma facilísima de recurrir a tu pensamiento positivo muchas veces a lo largo del día.
También puedes imprimir tu pensamiento y colocarlo en algún lugar visible, como al lado del ordenador o en un espejo.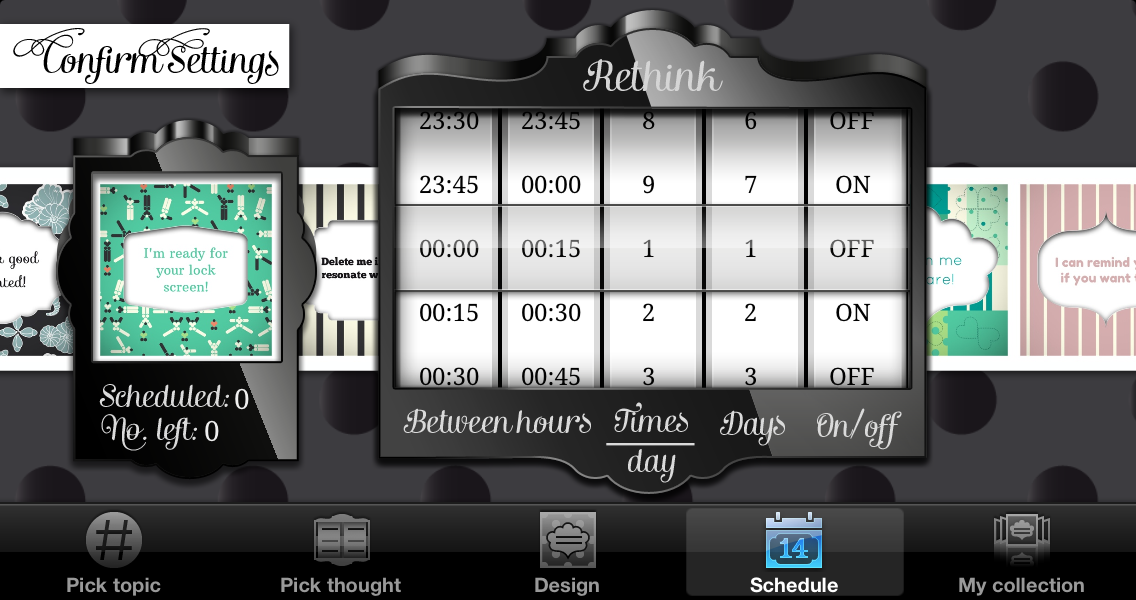 RECORDATORIOS PROGRAMADOS
Otra forma de reflexionar sobre tu pensamiento positivo regularmente es programar recordatorios para que se muestren en tu pantalla principal. Con el modo Programar puedes fijar el número de veces y de días que quieres recibir el recordatorio, además de establecer las horas del día en que se muestra.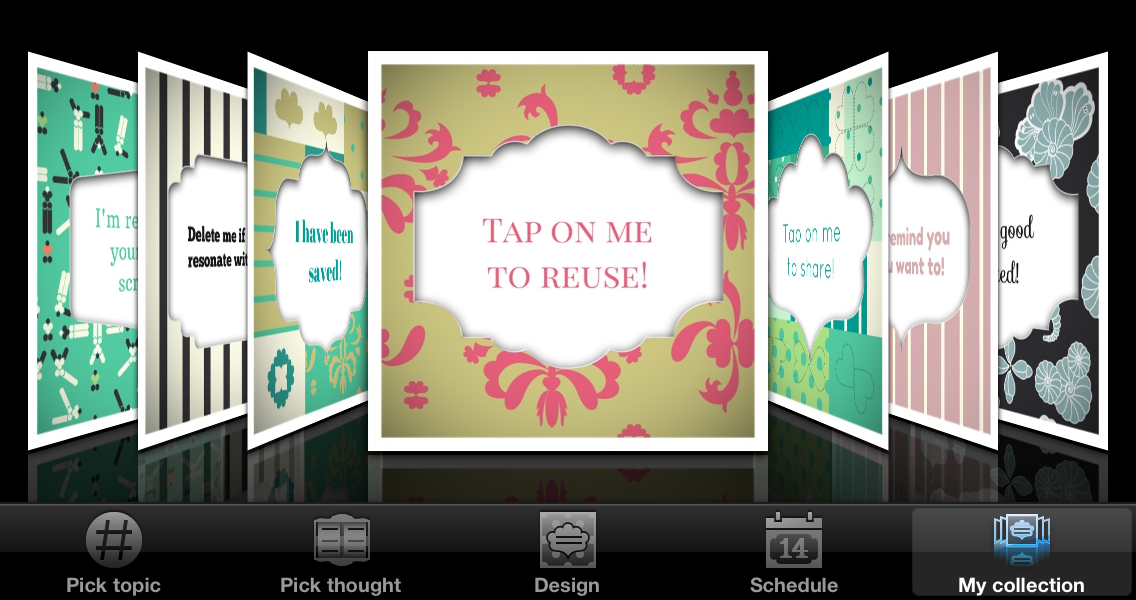 COLECCIONA TUS TARJETAS DE PENSAMIENTOS
Todos los pensamientos que diseñas se guardan en el modo Mi colección, de manera que puedas reutilizar tus pensamientos como afirmaciones poderosas que te ayuden a mejorar tu vida.